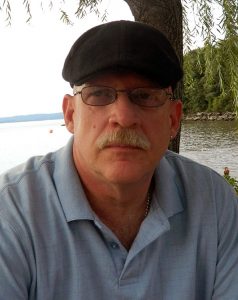 If you've ever been captivated by the way glass captures and reflects light, creating patterns and kaleidoscopes of color, then you share the passion of artist David J. Morrison.
Dave's exhibit, "The Passion" will be on display at Maryknoll Fathers and Brothers, located at 55 Ryder Road, Maryknoll, NY. The focus of the exhibit is his work in glass depicting the Twelve Stations of the Cross.
Dave grew up in No. Tarrytown, NY (now Sleepy Hollow) attending St. Teresa of Avila Church. He fell in love with the many stained glass windows, the way they captured light and how the colors of the glass transformed throughout the passing of the day. It was there that the foundation was laid for his artistry in that medium.
Dave studied painting and cartooning in his adult life, but got the opportunity to work with glass when he began studying glass blowing with Walter Zimmerman at Urban Glass in Brooklyn, NY. He studied glass in different art forms, including bead making. It was only after completing courses at Bullseye Glass Resource Center in Mamaroneck, NY that Dave settled on fused glass work.
After retiring from Metro North Railroad where Dave worked at a Machinist for 27 years, he purchased his own kiln and began his glass work in earnest.
Dave works in other mediums as well, and his creations are in the abstract cubism style. His work is mostly religious in nature, but he does scenic pieces as well. He has exhibited his art at the Ossining Arts Gallery, The Warner Library in Tarrytown, the John C. Hart Memorial Library in Shrub Oak and at Grand Central Station's "Talent on the Tracks" art exhibit. His works are available at Images art gallery in Briarcliff Manor.
Dave's exhibit will be on display in the Spellman Room at Maryknoll's main Seminary building from March 6 – 15, with a public Reception on Friday, March 8 from 6:30 pm – 9:00 pm. Admission is free of charge. For additional information, contact Dave Morrison at 914-482-0037.