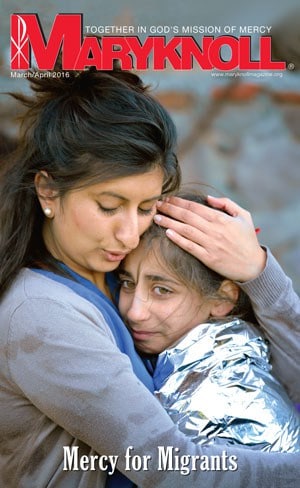 The Maryknoll and Misioneros Magazines combine for 40 Awards, including 18 First Place Honors, plus 14 Awards Received by Orbis Books
The Maryknoll Society is honored and delighted to have received over 50 awards from the 2017 Catholic Media Conference in Toronto for our magazines Maryknoll and Misioneros, and Orbis Books. Congratulations to everyone on our Magazine Team, Orbis Books staff, and the many other departments that contribute to these publications and advance our mission of spreading God's Love around the world.
Explore our winning articles, books, sites, magazine issues,and staff editors below: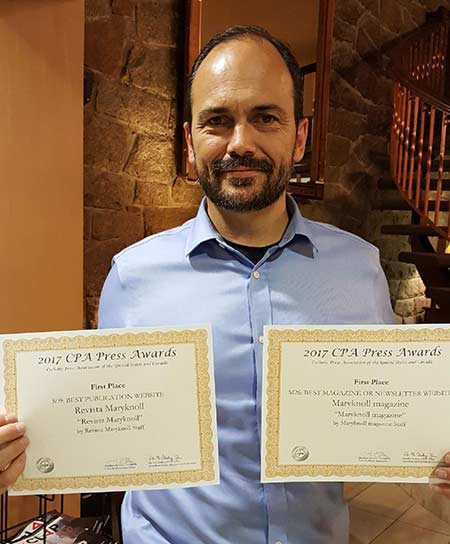 BEST COVER: (4-color, small)
FIRST Place
"Mercy for Migrants" by Paul Jeffrey and Diane Mastrogiulio
SECOND Place
"Mercy in Mission" by Nile Sprague and Diane Mastrogiulio
Editor of the Year: (English)
FIRST Place
Margaret Gaughan
Best Featured Article
FIRST Place
"Nurturing Talent" by Maria-Pia Negro Chin
Best Website (Magazine or Newsletter)
FIRST Place
MaryknollMagazine.org
Best Original Poetry
FIRST Place
"How long, O Lord?" by Joseph R. Veneroso, M.M.
SECOND Place
"Ways of Mercy" by Joseph R. Veneroso, M.M.
Best Essay originating with a Magazine or Newsletter
FIRST Place
"The Tears of Refugees" by Rosemarie Milazzo, M.M.
Best Reporting on Vocations to Priesthood
FIRST Place
"Sibling Spirituality" by Gabriela Romeri
THIRD Place
"Sharing God's love in Tanzania" by Maria-Pia Negro Chin
Best Online Presentation of Multimedia Visuals
FIRST Place
"Chained In Cambodia" by Sean Sprague, David R. Aquije and Kevin Conroy, M.M.
THIRD Place
"Working for Myanmar's Future" by John Zaw, Sean Sprague and David R. Aquije
Magazine/Newsletter of the Year (English)
THIRD Place
Maryknoll Magazine by Maryknoll magazine staff
Best Layout of Article or Column (Mission Magazine)
SECOND Place
"The Tears Of Refugees" by Rosemarie Milazzo, M.M. and Diane Mastrogiulio
Best Reporting Of Social Justice Issues (Life and Dignity of the Human Person)
FIRST Place
"Chained In Cambodia" by Sean Sprague
SECOND Place
"Transforming Pain To Peace" by Joanne Blaney, MKLM
Best Story and Photo Package
HONORABLE Mention
"Chained In Cambodia" by Sean Sprague