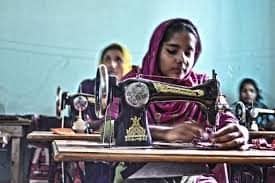 Brother Flavian Trade School, Fr. William Tillson, M.M. Tailoring Section
Missioner Responsible:
Fr. William J. McIntire, M.M.
Founded in 1992 by Father Bill Tillson, M.M., who died in mission serving the poor, this program is now continued by Father William McIntire, M.M. This mission teaches poor women how to sew professionally so they can help support their families.
Over the years, more than 200 poor women have improved their economic situation. In addition, women receive an academic education since many never went to school.
Your gift will enable Father McIntire to replace the old sewing machines and will insure a better future for women at risk.