Maryknoll Fathers and Brothers share the Good News and God's love by modeling the compassion of Jesus Christ to those most in need.
We Live and Serve Around the World
The Maryknoll Fathers and Brothers (a.k.a. the Maryknoll Society) is a U.S. Catholic order of priests and brothers that devotes itself to spreading the LOVE of God among those in need across Asia, Africa and Latin America.
Maryknollers move into the roughest fringes of society, living side-by-side with the indigenous peoples, and dedicating ourselves – with the generous support of donors – to combating poverty, building communities, availing healthcare, and advancing peace & social justice.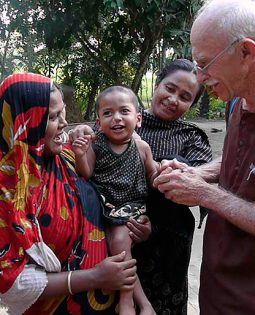 Finding the JOY of God's Love in Others
We witness the call to mission shared by all Christians to bring hope and healing to those most in need. Jesus is our model of compassion when we feed the hungry, heal the sick and care for outcasts around the world.
This is how all will know that you are my disciples, if you have love for one another.
Explore the ways you can impact our mission work for the poor and suffering:
Maryknoll accompanies lay Catholics and ministers on culturally immersive short-term mission trips worldwide to encounter Christ in other countries, particularly those suffering on the margins of society.
Explore our offerings of 2017 mission trips and other international volunteer opportunities.
Motivated by our faith in Jesus Christ, Maryknollers go to aid and live alongside the poor and marginalized around the world as a demonstration of God's unconditional love and mercy for all people.
Curious about vocations?  Explore a life of mission overseas, finding God's love in the least among us.
Maryknoll represents the face of Jesus to the poor and uneducated in the many places in the world that you serve . . . and you minister to them with love and with a deep faith.

I am proud to be one of your Sponsors.