Every Maryknoller gives witness to Christ's love, mercy and compassion for the poor. That's why caring for poor and marginalized children and families around the world is one of our core missions.
We can never overlook people in crisis—or the families who struggle each day to survive.
Join Maryknoll supporters to make a child's life better in the developing world.
Here are just a few mission programs that your gift will support:
Education and Job Training—the key to a brighter future.
Health Care—to provide both routine and specialized care to ensure good health.
Religious Instruction—to share the promise of salvation in Christ.
Pastoral Care—so people have peace of mind and access to Mass and the Sacraments.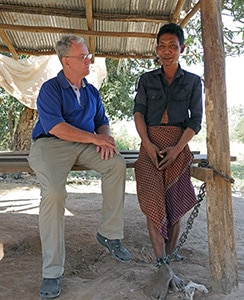 The lack of mental health services in Cambodia is so dire, many families have no choice but to shackle and chain their loved ones who are afflicted with these diseases as protection for themselves and their neighbors.
Thankfully, one missioner in Cambodia is Maryknoll Priest Associate Fr. Kevin Conroy, a trained psychologist who's collaborating with Cambodia's growing Mental Health community to bring hope and relief to the mentally ill and their families. This project focuses on providing quality mental health services and raising awareness of mental health issues across Cambodia.
Gift of Hope funds will be used to cover the salaries of seven on-staff psychologists, four with master's degrees in clinical psychology and trauma treatment, security staff and more.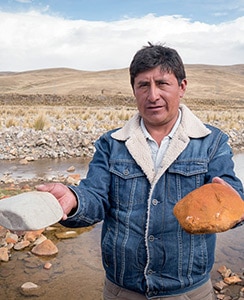 As Catholics, we show our respect for God by our stewardship of creation. Care for the earth is a requirement of our faith. We are called to protect all people and the planet, living our faith in relationship with all of God's creation.
This program's goal is to raise awareness among the people of Peru about the damage mining companies are doing to the land where they raise animals and crops.
Gift of Hope funds will be used to educate the people about their legal rights and instruct them on how to invest in improving their agricultural production and farming techniques.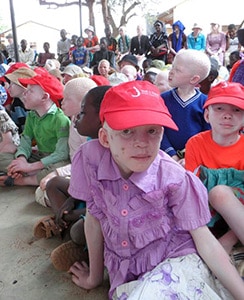 The number of people with albinism is very high in Tanzania. The actual number may be as high as 150,000. Those with this condition are persecuted here. Their skin is thought to have magical qualities so they are killed, dismembered and body parts are used in magic potions. They are also persecuted and killed because people think they are cursed and bearers of bad luck.
"We want to enhance the quality of life for people with albinism through treatment of medical conditions due to exposure to the sun — as well as prevention of sun damage. And if we are able to provide some young people with albinism a future through education, we will consider the program a double success." ~ Father John Waldrep, M.M.
Gift of Hope funds will be used for education, medical treatment, sunblock, umbrellas, sunglasses, hats, housing and more.
"A population that does not take care of the elderly and of children and the young has no future, because it abuses both its memory and its promise."
Please pray for our Fathers and Brothers in mission and for the children in our care. Prayer is a comfort and a blessing.
JOIN US and your gift to Maryknoll Fathers and Brothers will make sure that all children and families living in extreme poverty throughout the world are cared for with the respect they deserve, and receive the compassion of Jesus Christ.