Maryknollers Celebrating Jubilee, 2019
Maryknollers Celebrating Jubilee, 2019
Maryknoll is celebrating its tradition of "Called~Sent~Transformed"
Called by name in community through baptism
Sent by the Catholic Church in the U.S. in missionary discipleship
Transformed by love through relationships and thankfulness
On Sunday, June 30, 2019, we celebrated 37 Maryknollers commemorating their ordination to the priesthood or Final Oath as a Maryknoll Brother.
Every year we celebrate the missioners who each have a unique story and a personal definition of what being a missioner entails. It is the combination of these beautifully lived lives that, together, create the ever expanding, surprising, and thriving narrative that is Maryknoll.
70th
Fr. Arthur Dwyer
Fr. Lawrence Schanberger
65th
Fr. Michael Gould
Fr. Delos Humphrey
Fr. Laurence Murphy
Fr. Robert Nehrig
Fr. Richard Quinn
Br. Raymond Tetrault
Fr. John Wymes
60th
Fr. Joseph Arsenault
Fr. Patrick Bergin
Fr. John Cioppa
Br. J. Francis Dolphin
Fr. Michael Duggan
Fr. Clarence Engler
Fr. Adam Gudalefsky
Fr. Edward Hayes
Fr. Leo Kennedy
Fr. Daniel Lanza
Fr. Gerard McCrane
Fr. Robert Pellini
Fr. Robert Reiley
Br. Goretti Zilli
50th
Fr. Paul Belliveau
Fr. Thomas Burns
Fr. John Cuff
Fr. Francis Felter
Fr. John Kaserow
Fr. Joseph Klecha
Fr. Raymond Nobiletti
Fr. Gerald O'Connor
Fr. Kenneth Thesing
40th
Fr. Joseph Donovan
Fr. Edward Dougherty
Fr. Paul Duffy
Fr. Robert Jalbert
Fr. Norbert Pacheco
Fr. Michael Snyder
Fr. Kyungsu Son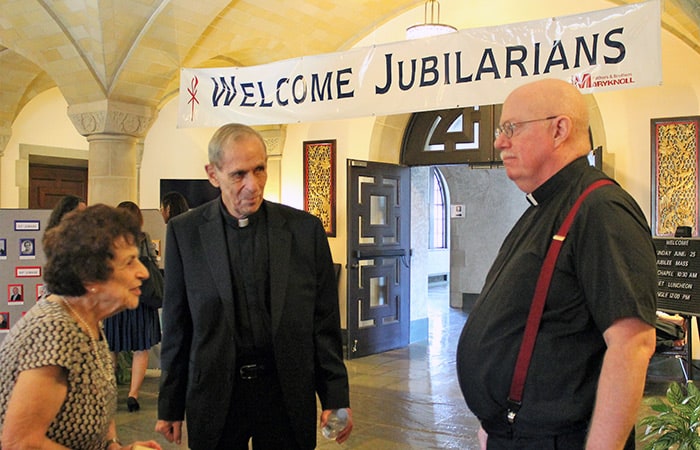 Spirit of God, move me,
motivate me,
inspire me to rejoice always
in the gifts you bring.
Spirit of Jesus,
in my hands, feet, mouth,
heart, speech, action,
let my very being
pulsate with your life.
Spirit of God
all around us and acting through us,
lead us to freedom
as we soar to new heights.
Give us courage and strength,
teach us to lose ourselves in your Self
and become eternally one in peace.
~ Father Michael D. Bassano, M.M.
A Maryknoll Book of Prayer (Orbis 2003)
About Us
About Maryknoll
Our Mission Work
Emergency Relief
Saving Planet Earth
Medical Care
Mission in the U.S.
Mission Archive
Resources
Ways to Support
Vocations
Magazines & Media
Short Term Mission Trips
Enciende tu Llamada Misionera
Essay Contest
Teacher Community
Working at Maryknoll
Maryknoll Fathers and Brothers will not sell, rent or exchange your data with other organizations.
The Maryknoll Fathers and Brothers (Catholic Foreign Mission Society of America, Inc.) is a tax exempt non-profit organization incorporated in the State of New York. Tax ID # 13-1740144.